Yeah, I said it.
Why?
Because my butt hurts from my bike seat.
And because I take all of my pictures with my cellphone because I'm stupid.
And I took about 20 pictures for my blog.
And I have to email them one by one.
Lordy lordy lordy I could scream.
Not to mention the fact that my phone does this lovely thing where it cancels every other picture and I have to resend it.
Anyway, let me tell you about my day cuz it was actually pretty awesome.
First I woke up... well let me rephrase that.
First I sort of woke up and then went back to sleep and then woke up and then went back to sleep and then said "Leave me alone mom" and then went back to sleep, and then I took a shower.
Today we needed to go pick up my books for my classes. But of course the big guy in the sky went "lol you don't need books, use the interwebz". So I couldn't get my books today.
Then we went and looked at a bunch of antique stores. We were hoping to find some area carpets for the new house, since we don't want to freeze our feet off. We didn't find any, but I did get some pretty awesome new sunglasses.
They're dark pink with old-school clear plastic that has the swirly stuff in it. I love them like they are my child.
I saw some pretty cool things like antique glass cases and dolls. But one doll in particular freaked me the frick out. You'll see it.
See I'm lazy, so I'm going to post all the pictures at the same time because I seriously don't feel like stopping, linking, posting, etc. etc. for 20 pictures.
But I'll label each one as a reminder to you guys.
I also saw a wooden horse making a mean face at me, so I had a staring contest with it. The horse won, but I think he cheated.
I saw a cute security guard hat, so I put it on for good measure. I always look good in uniform.
Speaking of uniform, I found a boot camp barbie. Who knew?
Anyway, after the antique store we went to a barbeque shop that overcharged for what they served.
Still, the ribs were pretty good.
After that we went to a carpet store and went HOLY CRAP YOU GUYS ARE EXPENSIVE and then left.
Then we went to walmart where I picked up this pink grapefruit face scrub. That stuff is like squirting heaven on your face.
Except I really hope heaven isn't made out of grapefruit. That'd be sticky and really frickin' stingy if you accidentally scraped your knee on the swingset.
Oh yeah, and heaven has a swingset. I forgot to mention that.
And then we came home and I decided to go for a bike ride. I've been maintaining a steady weight and figured going for a nice 30 minute ride would help that. Plus I could go see the lake that's in our development. And honk honk with the duckies.
Duckies! Honk hooooooonk!
I think this post will go backwards in time now, because I've realized that I missed some days of pictures. Like... a lot of pictures.
On Tuesday we went to the mall to get me a hat, and went to the bank for me to re-sign on my checking account.
I got my hat and I really like it. It's old-school forties and I can wear it when I go out sometimes.
Just not all the time. I'm not a hardcore hat fanatic. But I am a retro-fanatic.
Anyway, so I got my hat and while we were walking through Sears to go back to the car I see this dress and go OH MY GOD MOMMY I HAVE TO HAAAAAVE IT.
But they only had two left. The one on the display that was a size 3, and the size 7 that the saleslady found for me.
Needless to say I got the size 7 and I'm happy.
And then the day before that I wore my other pink sunglasses in the car when we went to the fashion show mall. That's when I got my opal ring and we got the house and such.
So all-in-all it's been a pretty good week. We're signing the contract for the house tomorrow. Woo!
Now for the picture show. ENJOY MY LOVELIES.
The creepy doll that no one could ever love unless they were a sociopath.
The mean horse. See? He looks really mean. Like he wants an apple and I'm not giving him an apple. He's like RAWR APPLE NOW WOMAN.
Yeah, he's sexist too. He called me woman.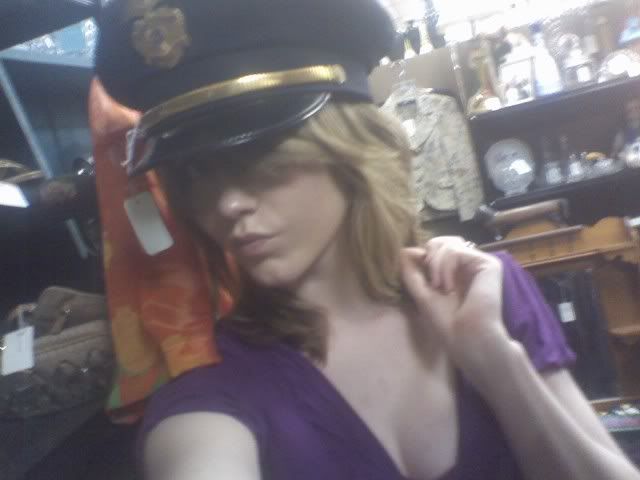 The cute security guard hat with the thirty dollar price tag. Pffffft, I'd rather get a real hat than a security guard hat for that kind of money.
Being vain in the "Shelly China" cabinet. You're so vaaaaain, I bet you think this is for looking aaaaat yourself dooooon't you doooooon't you.
It's reflective and my hair looked good. So sue me.
Shut up. This time it really was a mirror meant for looking at yourself.
You're so vaaaaaain...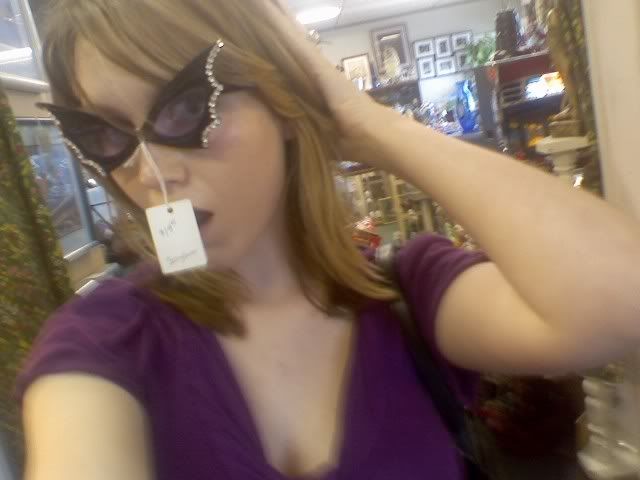 The rhinestones make them classy, don't you agree?
No seriously those glasses are hideous.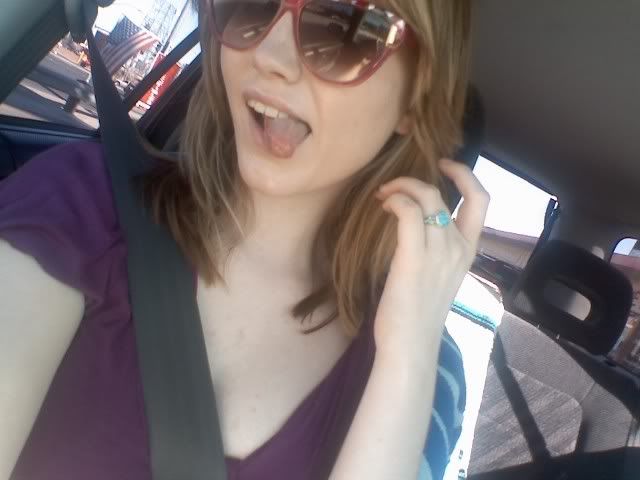 My new sunglasses! I like them a lot. For whatever reason they remind me of Katy Perry. They're all nonchalant vintage.
Like hey look at me I'm cooler than you cuz I buy my crap used.
There we go. That's why they remind me of her.
Here's the lake by our house that's built into the development. I biked down there today for my exercise: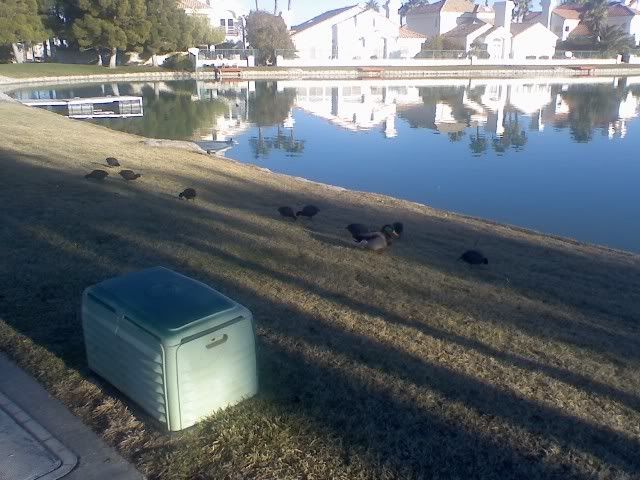 Duckies! There's this sign by the ducks that I always thought was really cute: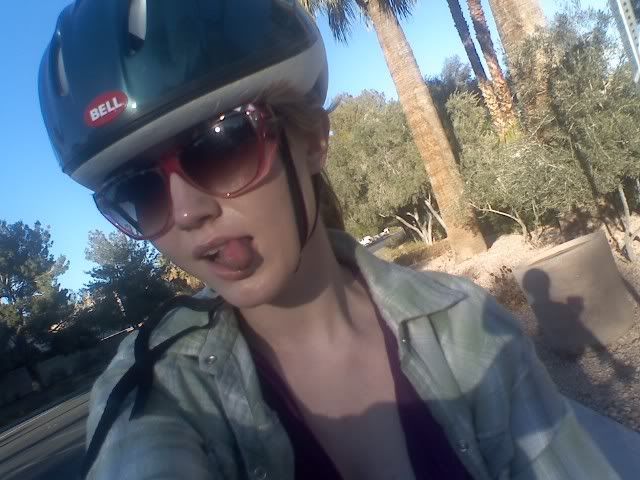 Here's me on my bike with my helmet and AWESOME GLASSES on.
Better safe than lying on the ground with your brains splattered all over the pavement!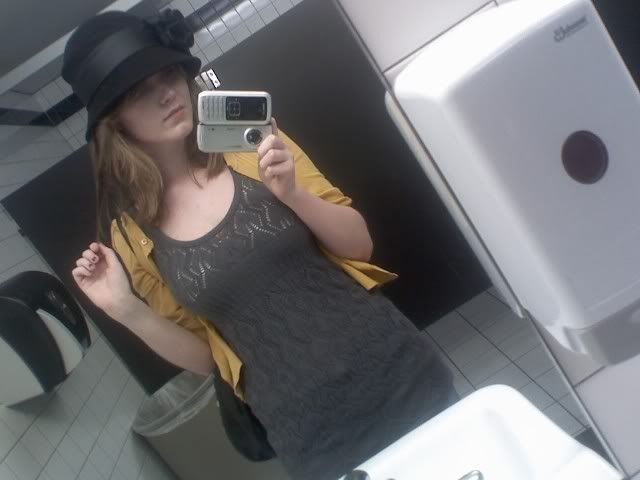 Me in my new hat standing in the JC Penney bathroom.
Note that my shirt is see-through and I couldn't care less.
And the cute, kicky yellow sweater.
I have a different taste in clothing, and I enjoy it.
Me at home in my new dress. I really, really love that dress. I just don't know where I'm going to wear it.
Last but not least, my other awesome sunglasses.
And incase you didn't happen to notice...
Word of the Day!
FRICK
Use:
Used to replace a certain expletive that begins with an F
Use in a sentence:
Did you guys notice how much I said frick today? FRICK.

lol, i typed Fruck on accident.